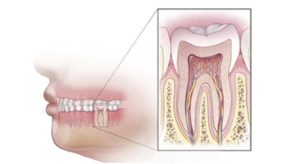 What Is a Root Canal?
A root canal is a treatment used to repair and save a tooth that is badly decayed or becomes infected. During this procedure, the nerve and pulp are removed, and the inside of the tooth is cleaned and sealed. But is a badly rotted tooth worth saving?
Dr. Weston Andrew Valleau Price was a Canadian dentist known primarily for his theories on the relationship between nutrition, dental health, and physical health. Much of his work involved Root canals and his research brought him to the conclusion that no disinfecting agent completely rid root canalled teeth of bacteria and that all root canalled teeth remained infected and, therefore, had the potential to cause local and systemic infections. These infections have the potential to enter the bloodstream via open sores, wounds, lesions, or punctures in the opening of the mucus membrane and cause havoc and even death in some unfortunate cases.
The Problem with Root Canals
Although the procedures of root canals have improved, Dr. Bruce Fife wrote in the book "Oil Pulling Therapy" that the underlying problem with root canals still exists. Dr. Fife argued that the problem lies in the structure of the tooth. Bacteria that cause most root canal infections comes from the inside the tooth. He further explained bacteria often enter the tubules (dentin which makes up most of the structure of teeth), particularly if the tooth has been attacked by decay. This is especially true for badly decayed teeth that are candidates for root canals.
Once bacteria penetrate deep into the tubules, they can remain indefinitely. Antibiotics and disinfectants have no power over them. Bacteria have a safe haven where they can flourish and multiply. No matter how well the dentist cleans and disinfects a root-canalled tooth, it will always harbor bacteria. Therefore, all root-canalled teeth are potential breeding grounds for bacteria. George E. Meinig, D.D.S., one of the founding members of the American Association of Endodontists and author of Root Canal Cover-up says, it is safer to pull a severely diseased tooth rather than plug and cap, forming a breeding ground of decay, sealing in poisons and bacteria that will leak into the bloodstream for the rest of your life.
About the Root Canal Cover-up Story
It is important to know that not all root-filled teeth will be painful or show noticeable signs of infections, not even on X-rays. Dr. Fifi wrote that every dentist knows X-ray pictures do not accurately reveal infection which can be present in teeth. If you have a tooth that is severely decayed, I highly recommend reading Dr. Bruce Fifi's book "Oil Pulling Therapy," and Dr. Meinig's book "Root Canal Cover Up" so that you can make an informed decision on whether to save the tooth or pull it.
If you have a Root Canal and a systemic disease, it is very possible that your disease is a result of the bacteria from the rotted tooth. I also highly recommend reading these books to you as well to determine if having the tooth (teeth) pulled is a good course of action to take. Your overall health care can be greatly attributed to the health of your mouth. A healthy mouth is a great preventive way to maintain the overall health of your entire body. The more you know about oral health care, the better choices you can make.
Related Links
How Oil Pulling Therapy Combats Bad Oral Hygiene