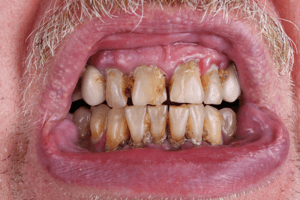 What Is Oil Pulling Therapy?
Oral Pulling Therapy, swishing oil in your mouth to remove harmful bacteria and toxins, is an inexpensive and highly effective detox for teeth, gums, and tissue. The oil pulling therapy works to improve your health by drawing harmful bacteria and other debris into the oil. Then the oil carrying the bacteria and decayed debris are expelled from the mouth by splitting it out.
The entrance to your digestive tract, your mouth, is an accurate representation of the health of your overall digestive system. Over 6 billion bacteria and other microorganisms (viruses, fungi, and protozoa) are continually present in your mouth.
Harmful Microorganisms Stay Busy Inside Your Mouth 24/7/365
As you go about your day, bacteria also go about their day. These tiny microorganisms stay busy 24-hours a day feeding, defecating, mating, giving birth, and dying inside your mouth. Although many bacteria are harmless as long as they only remain in your mouth, disease-causing microorganisms can enter your bloodstream via sores, wounds, lesions, and punctures within the mucus membrane. Accordingly, brushing or flossing your teeth too vigorously or too often can cause your gums to bleed, which in turn can provide an opening for bacteria-carrying germs to enter your bloodstream.
Unfortunately, once harmful microorganisms enter your bloodstream, they can travel to any part of your body, including the heart, kidneys, gallbladder, liver, eyes, and brain. The result of these harmful microorganisms entering your bloodstream can lead to infections, chronic inflammation, and other health problems ranging from arthritis to heart disease, and in some cases, death.
Dentist and Scientist Agree—Most Diseases Start in the Mouth
For these reasons, many dentists and scientists claim that all diseases start in the mouth. Dr. Bruce Fife, in his book "Oil Pulling Therapy," wrote,
"Most of the chronic and infectious illnesses that trouble our society today are influenced by the health of our mouths."
Medical studies have indicated that the following health issues can be directly related to oral health and may respond to oil pulling therapy: acidosis, adult respiratory atherosclerosis, blood disorders, brain abscess, cancer, emphysema, gallbladder disease, gout, heart disease, heart disease, hyperglycemia, infertility, kidney disease, liver disease, meningitis, nerve disorder, osteoporosis, Paget's disease, pneumonia, preeclampsia, preterm/low-birth-weight babies, psychotic episodes, and many types of infectious diseases.
Oil Pulling Therapy to the Rescue
Oil pulling is the simplest form of detox available. So, grab yourself some coconut oil and swish your way into total body wellness.
Related Links