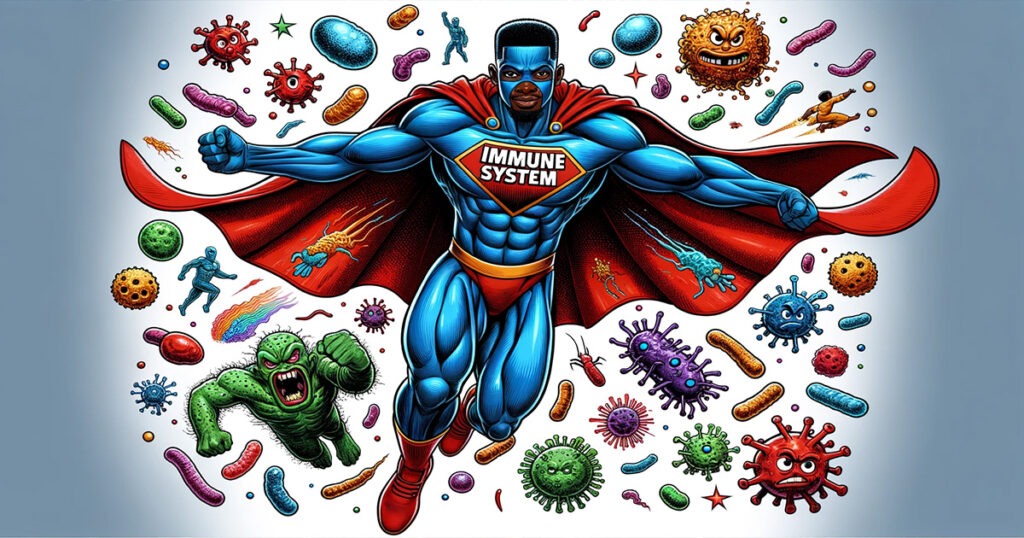 Natural Max Health Improving Your Health: Essential Knowledge Series
The immune system is a complex network of organs, white blood cells, and proteins. It is the body's first line of defense against infections, viruses, fungi, parasites, cancer cells, invaders like germs, and cell changes that can harm your health. When working properly, our immune system protects us from getting sick and promotes healing if we do.
The immune system prevents or limits infection by distinguishing between normal healthy cells and unhealthy cells. According to the National Institute of Allergy and Infectious Diseases (NAID), it does this by recognizing various "danger" cues called danger-associated molecular patterns (DAMPs). Cells can become unhealthy because of infection, cellular damage, and infectious microbes such as viruses and bacteria.
Infectious microbes release specific signals called pathogen-associated molecular patterns (PAMPS) that the immune system recognizes. Upon detecting these signals, the immune system responds to eradicate the threat. However, if the immune system fails to respond, it can lead to infections. On the other hand, an overactive immune system that reacts unnecessarily or does not turn off after the danger has passed can cause problems such as allergic reactions and autoimmune diseases.
What Happens When the Immune System Works Properly
When functioning correctly, the immune system is a natural healing network that provides the ideal foundation for recovering from any illness or disease. It has several functions, such as:
Keeping invaders out of the body
Limiting the amount of damage caused by invaders that are inside the body
Distinguishing between your cells and those that don't belong in your body
Killing germs that can cause harm
Ending an attack once the threat has subsided
Learning about germs after contact with them and developing antibodies against them
Releasing antibodies to destroy germs that may try to enter your body in the future
Adapting to new challenges and threats.
What Happens When Your Immune System Does't Work Properly
When your immune system is too weak or too strong, it can devastate your health.
Many lifestyle habits can weaken your body's defense system, such as:
Smoking
Alcohol consumption
Overuse of antibiotics
Birth control pills
Poor Nutrition
Stress
Poor sleep
Many health conditions can weaken your immune system and make you more susceptible to infections, such as:
AIDS
Type 2 Diabetes
Cancer
Mold exposure
Warning Signs That Your Immune System May Be Compromised
Often, individuals are unaware that their immune systems are not functioning correctly. The best way to know is to pay attention to your body and know the signs. According to Mayo Clinic, the following are signs and symptoms of immunodeficiency:
Frequent and recurrent pneumonia, bronchitis, sinus infections, ear infections, meningitis or skin infections
Inflammation and infection of internal organs
Blood disorders, such as low platelet count or anemia
Digestive problems, such as cramping, loss of appetite, nausea, and diarrhea
Delayed growth and development
Autoimmune disorders, such as lupus, rheumatoid arthritis, or type 1 diabetes
How To Boost Your Body's Defense System
Now that you know your immune system can be compromised, you must understand how to boost its capabilities to defend your body.
Diet
Adopting a healthier lifestyle is the most well-known and effective way to boost the immune system. A healthier lifestyle starts with a diet that promotes healing. You can achieve this by eating more nutritious foods such as vegetables and fruits and drinking more water. To further improve your immune system, avoiding sugary drinks and highly processed foods like pastries, chips, cookies, deli meat, breads, refined grains, and genetically modified foods is recommended.
Get Enough Sun
Getting enough sunlight daily has numerous benefits for your health as it helps your body absorb essential nutrients and minerals. Exposure to sunlight allows your body to produce vitamin D, which is crucial in regulating hundreds of critical pathways and is necessary for your cells to function correctly. In addition, sunlight has antibacterial properties that can help kill harmful bacteria. Furthermore, exposure to sunlight can improve the quality of your sleep and boost your mood, both of which are vital for a healthy immune system.
Increase Your White Blood Cells
Enhancing your white blood cell count is crucial to strengthen your immune system. You can achieve this by consuming foods high in vitamins A and C and zinc, staying hydrated, having a diverse range of vegetables in your diet, and even taking cold showers. All of these activities assist the body in producing white blood cells, which play a vital role in the immune system's defense mechanism.
Reduce Inflammation
Inflammation can weaken your body's defense system by causing an overactive response. In order to strengthen your immune system, it's crucial to reduce inflammation. One way to achieve this is by adding minerals like our high-quality sea moss to your diet. Furthermore, smoking can have a severe impact on both your immune system and lungs. Therefore, quitting smoking can significantly boost your immune system. Increasing your vitamin C intake is also advisable, as your body needs extra antioxidants to combat the harmful effects of tobacco.
Avoid Alcohol
It is a well-known fact that alcohol consumption suppresses the immune system. According to the Mayo Clinic, it weakens our bodies and makes it harder to combat stress, viruses, and diseases. Some dietitians recommend no more than one drink per day for women or two drinks per day for men. Other health experts argue that alcohol is toxic and that there is no safe amount for human consumption.
Manage and Reduce Stress
Stress can cause inflammation in the body, which negatively impacts the immune system. Therefore, stress management is crucial for maintaining good health. You can manage stress by practicing deep breathing and meditation and engaging in light exercises such as walking, rebounding, or bike riding. Participating in activities you enjoy, like garden therapy, dance therapy, art therapy, music therapy, or live-action role-play, can also help manage stress and anxiety. As mentioned earlier, sunlight can improve mood, which in turn can alleviate stress. Connecting with others is also an excellent way to distract yourself and receive support. In more severe cases, professional counseling may be necessary. Additionally, certain herbs are known to help reduce feelings of stress and better manage stress levels. Some of the most popular herbs known for reducing stress include:
Ashwagandha
Valerian
Chamomile
Lemon balm
Lavender
Passionflower
Peppermint
St. John's Wort
Kava Kave or Kava Root
Rhodiola
It's Never too Late to Improve Your Health Defense System
It's never too early or too late to strengthen your first line of defense against illnesses – your immune system. With colder days fast approaching, now is the perfect time to adopt healthier habits. Ensure your immune system is robust enough to fight off those disgusting bugs going around the office or the nasty germs your children bring home. Get more sunlight, sleep well, manage stress, drink more water, eat more fruits and vegetables, exercise regularly, and connect with others. Making small changes every day can lead to significant improvements in your health.