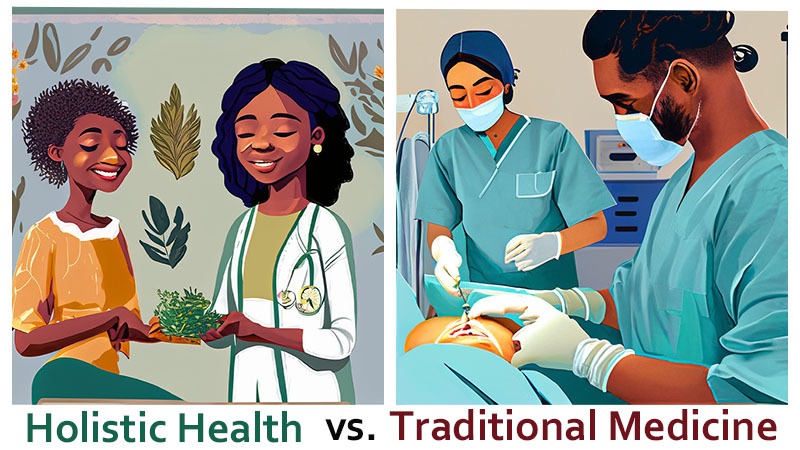 In today's healthcare landscape, there are two primary approaches to healing the body- holistic and traditional medicine. Both have a long history, and many have attested to their effectiveness. But which is better? Let's find out.
What is Holistic Healing?
The concept of holistic healing considers a person's complete physical, mental, spiritual, and emotional state before suggesting any treatments. This approach highlights the significance of maintaining a balanced life and health, acknowledging the close link between the mind, body, and spirit. The underlying principle is that if one area is not functioning optimally, it can impact others.
Positive aspects of holistic healing
There are several positive aspects of holistic healing:
This approach recognizes that each person has unique needs, backgrounds, and issues and, therefore, requires a personalized approach to treatment rather than a one-size-fits-all remedy.
Holistic healers believe that prevention is better than cure and advocate for a balanced lifestyle to prevent illnesses from manifesting.
Holistic treatments often involve natural methods, such as acupuncture, meditation, or herbal remedies, which can reduce the risk of side effects.
Far less costly than the traditional medical approach.
The cost of medications and surgical procedures can be incredibly high and are among Americans' primary causes of personal bankruptcy.

According to an online CNBC article "This is the real reason most Americans file for bankruptcy."
Negative aspects of holistic healing
People should be aware of some negative aspects of holistic healing. Here are a few:
1. Achieving balance in all aspects of life through holistic healing can be time-consuming. The holistic approach requires a significant investment of time and effort.
2. Some holistic methods need more extensive scientific research, leading many to question their effectiveness.
3. Sole reliance on holistic healing may delay the use of necessary medical interventions, which could potentially be harmful.
Traditional Medicine
Traditional medicine, also known as allopathic medicine, relies on pharmaceuticals and surgeries to alleviate symptoms of diseases. This approach is rooted in scientific research, clinical trials, and peer-reviewed studies.
Positive aspects of traditional medicine
1. The treatments used have undergone extensive testing to ensure their safety and effectiveness for various individuals, backed by research and evidence.
2. Quick Relief: Medications can prompt relief from painful or debilitating symptoms.
3. Specialization: Modern medicine has specialists for almost every condition, ensuring patients receive expert care.
Negative aspects of traditional medicine
1. Symptomatic Treatment: Traditional medicine often focuses on treating symptoms rather than addressing the root cause of the illness.
2. Side Effects: Medications can sometimes lead to side effects, which may require additional treatments.
3. Over-Reliance on Drugs: There is a potential risk of over-prescribing or becoming overly dependent on certain medications.
4. The cost of medications and surgical procedures can be incredibly high and are among Americans' primary causes of personal bankruptcy.
The Synergy of Both Worlds
While each method has its merits, there may be more productive approaches than pitting holistic healing against traditional medicine. Instead, consider the potential of an integrated healing system that draws strengths from both worlds.
A combination of holistic and traditional medical practices recognizes that while immediate relief from symptoms is essential, understanding the underlying causes is equally crucial. This synergy could lead to faster healing, reduced side effects, and a more balanced approach to health.
Example: Suppose someone suffers from chronic pain and seeks medical help. Traditional medicine might prescribe painkillers, but a combined approach would provide the patient with anesthetics and access to herbal remedies, physical therapy, counseling, or acupuncture. This approach manages the pain while addressing the underlying physical or emotional cause.
In Conclusion
Recognizing that holistic and traditional medical healing methods have advantages and disadvantages is essential. Instead of promoting one over the other, it's more advantageous to consider the benefits of a balanced and integrated approach. By incorporating the strengths of both systems, we can work towards a healthier and happier future for all patients.
For those considering a holistic approach to their health, please visit our Natural Max Health Shop page to find all-natural herbal remedies that may work to improve or alleviate your condition.